Why do the Metatronic Courses happen in sequence?
This is how they have been given, and experience has repeatedly confirmed the perfection of Metatron's Plan: with every level, the frequencies grow more potent, more deep-acting, and each set builds on the work done at an earlier level, so they clear us and lift our awareness incrementally, one step at a time.
In this 5-day course of 13 Attunements and Transmissions, Metatron builds on the crystal frequencies you have met in Ancestral Songlines. Crystals represent divine geometric imprints on the physical plane, so they provide a direct pathway of communication with the higher matrix codes of consciousness. It's not surprising then to find that these frequencies – perhaps best understood as the energetic templates for the innate perfection of crystal structures – act deeply into the emotional body, where so many of the wounds of our experience are lodged.
Harnessing the Power of Emotion
Our emotional bodies – when t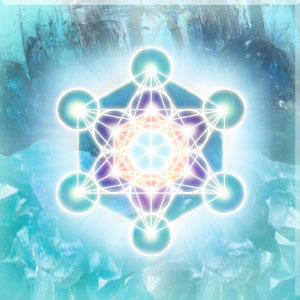 hey are clogged and unprocessed – can keep us "stuck in the mud" of our lower and heavier emotions. But as the emotions are clarified, the intelligence and power within the emotional body can powerfully guide us on our inner journeys. Crystal energies help to break up congestion, so the crystal Transmissions dissolve emotional 'congestion' that has built up through the personal and collective myths that have accumulated of years, and light you up from the inside out.
Most of the crystal frequencies come from the depths of our own Earth, a few tektites are included: Moldavite, for instance, is believed to have landed on Earth from other planets. But crystals are also amplifiers: this mix of 'Earthly' and 'Off-Planet' frequencies creates a dynamic spectrum, stretching and strengthening your energy field as it connects you with wider spaces and grounding you ever-more firmly into the loving support of Earth, our home planet, giving you a more and more deeply felt sense of being 'home'. It extends your Metatronic 'reach' within your own life and your practice.
Your Crystalline Biology
The crystalline structure is inherent in our own bodies: the DNA and the blood system are themselves bio-crystalline mediums. This must be partly why crystals have so long been successfully used in healing: each crystal holds the purest embodiment of any particular ray, so they have traditionally acted like a tuning fork on the energy system, restoring the body's natural settings. As your emotional body integrates these frequencies of  these crystal 'messengers', healing and strengthening as the higher-matrix information codes infuse your energetic wiring, your matrix will be open and ready to receive the expanded frequencies offered in the Cosmic Course, Music of the Spheres.

How will my Metatronic Path Deepen with this Course?
The emotional release is profound, so your entire being becomes lighter as the weight of painful emotions is lifted and you will find yourself relating more fluently and warmly with yourself and with those around you. But the emotional field is a source of tremendous power, so as this clarification deepens, your creative potential is activated and released: the innate power and energy of your emotion is released for creative use.
Along with this process, your healing skills deepen; you will harness the balancing, communicative energies of crystals to clear and cleanse not only human hearts and energy fields but also the spaces that hold us. Homes and environments are healed around you.
Course Bliss:
"I've had some amazing results since using the energies from the Crystal Radiance course. I always measure the stress/wellbeing of my clients before and after treatments using my radiesthesia chart. When I was using just Reiki, they would get to about +400 after a session. After I did Metatronic Foundation Course the readings after a healing session were up to +1000. After the Intermediate Course, my clients were getting up to +2000 after a session, and now with the crystalline energies, clients are between +400 and +10,000. It is phenomenal." Dr Anne Whitehouse, Leicester.
"The deep gracefulness and wisdom of the Advanced Course Metatronic energies have encouraged me to assess with great clarity what habits and beliefs are still holding me back. The time for sticking to old mass consciousness beliefs is past, and Metatron is making sure I keep to my promise of expressing my greatest potential at all times. It's only natural that the masks have disintegrated and disappeared. For a short moment I felt naked in the strong wind, then I was shown the way to my inner strength, determination and focus. This was followed by a wave of inspiration and wisdom. I now have the fortitude I need to translate my dreams into physical form. It is interesting that when I did Foundation and Intermediate, I felt and looked different: this time round, my whole life has changed! Thank you for your loving support and inspirational role modelling, every step of the way. Grace and love." Claudia D-C, Nursing Practitioner, Salisbury
"Thank you for the utterly amazing experience of the Crystal Radiance course – and all the courses leading up to it. I have thoroughly enjoyed them all. I feel so full, but light. The energies are so powerful, the information about the crystals last week very interesting and you also make the whole experience fun. Thank you  for your courage and generosity of spirit!  I'm looking forward to the Music of the Spheres course   …… hold on tight!"  Jilly D. B – Healer
This course is open to all who have successfully completed Ancestral Songlines: Healing the Past. Completion of the Crystal Radiance Course is a pre-requisite for attendance on the Cosmic, Music of the Spheres course.